TRIP CANCELLED FOR 2021.
WE WILL BRING IT BACK IN 2022.
Join us then as we visit one of the
most beautiful corners of the Alps
Interlaken, Switzerland
and the Jungfrau Top Ski Region
with a trip extension to ATHENS, GREECE
March 2022
Magic, majestic, spectacular, sensational - these are just a few of the many words used by visitor to describe the breathtaking beauty of the Jungfrau Top Ski Region and its capital - Interlaken. The town is a traditional resort town in the mountainous Bernese Oberland region of central Switzerland. Built on a narrow stretch of valley, between the emerald-colored waters of Lake Thun and Lake Brienz, it has old timber houses and parkland on either side of the Aare River. Its surrounding mountains, with dense forests, alpine meadows and glaciers, has numerous hiking and skiing trails. While its world-class skiing draws many of its tourists in the winter, there's plenty to do for the non-skier as well: The Swiss Rail System takes non-skiers high up in the mountains as well as making for easy sightseeing destinations to Bern, Gstaad, and Lucerne. Interlaken offers spas, shopping, museums and restaurants.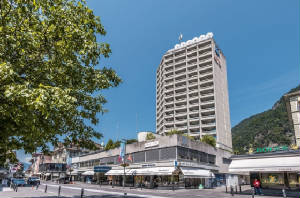 The Hotel Metropole is in the very heart of the city. It's modern design affords spectacular views of the surrounding mountains. You'll reside in four star comfort with a delicious daily breakfast buffet and four course dinner each night. The hotel has a health club, sauna, and a beautiful lounge.
Athens is the capital of Greece. It was also at the heart of Ancient Greece, a powerful civilization and empire. The city is still dominated by 5th-century BC landmarks, including the Acropolis, a hilltop citadel topped with ancient buildings like the colonnaded Parthenon temple. Our hotel for our 3-night stay in Athens is the Hotel Titania, a beautiful 4-star gem in the heart of the city.


Forms below are for the Cancelled 2021 trip. Prices are for 2021, but prices for 2022 should not change much.